| | | |
| --- | --- | --- |
| CAS NO. | : | 30560-19-1 |
| HS Code | : | 38089910 |
| Synonym | : | O,S-Dimethyl N-acetylphosphoramidothioate |
| Origin | : | China |
| Packing | : | 50 kg/Fiber Drums |
| Molecular Formula | : | C4H10NO3PS |
| Molecular Weight | : | 183.162 g/mol |
| Appearance | : | White |
| Status | : | Commercial |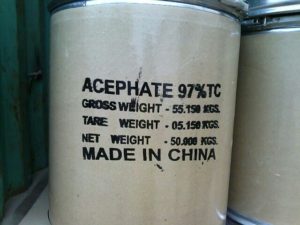 Application :-
It is used primarily for control of aphids, including resistant species, in vegetables (e.g. potatoes, carrots, greenhouse tomatoes, and lettuce) and in horticulture (e.g. on roses and greenhouse ornamentals). It also controls leaf miners, caterpillars, sawflies and thrips in the previously stated crops as well as turf, and forestry.
This product can be used to control many kinds of pests such as leafhoppers, sharpshooters, rice leafroilers, diamond back moth, aphids, red spiders etc on cereal, oil-bearing plant, fruit, vegetable.
Acephate is used for beans, Brussels sprouts, cauliflower, celery, cotton, cranberries, head lettuce, mint, peanuts, peppers, and tobacco. Effective against alfalfa looper, aphids, armyworm, bagworm, bean leaf beetle, bean leafroller, blackgrass bugs, bollworm, budworm, cabbage looper, cankerworm, corn earworm, cranberry blossomworm, cutworms, diamondback moth, European corn borer, fireworm, fleahopper, grasshoppers, green cloverworm, gypsy moth, hornworm, imported cabbageworm, imported fire ants, lace bugs, leafhoppers, leafminers, leafrollers, lygus bugs, Mexican bean beetle, Mormon crickets, oak moth, saltmarsh caterpillar, soybean looper, spanworm, Sparganothis, stink bugs, tent caterpillars, threecornered alfalfa hopper, thrips, velvetbean caterpillar, webworm, and whiteflies and Insect control in forests, tobacco, and ornamentals.